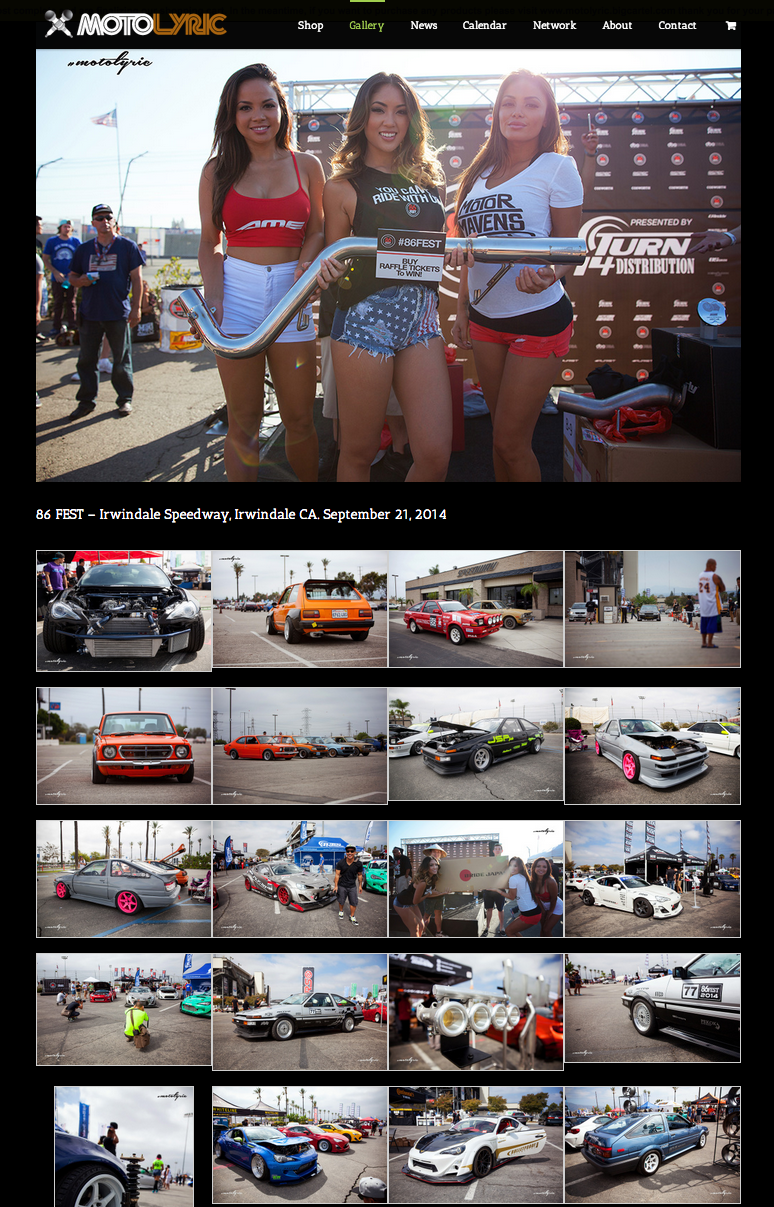 Big thanks to Rommel from Motolyric for these great photos and his writeup of 86FEST at Irwindale Speedway! Here's a repost of his story. Make sure to go to the Motolyric website to view the photos in high resolution!
•••••••••••••••••••••••••••••••••••••••••••••••••••••••••
There's a significant difference between a race and an event. This was an event and on a grand scale. 86FEST really brings something with a difference, and Antonio Alvendia of Motor Mavens says if he has anything to do about it, this event will remain on So-Cal's Car Culture calendar for many years to come. As it should with the fact that it took more than blood, sweat and tears. For those that were there witnessed an aspiring individual express his hard work and sacrifices to be able to make this event possible. Gratefully Antonio has a network of great people, friends and companies that not only catered to help the event stay in line, but supported what we all believed in, which is a dying breed of true car culture.

The significant number 86 was represented from shirts to badges, stickers, socks, and everything you could think of. This Festival showcased the AE86's, FT86's, and BRZ's, but also drew in all types of cars like old school Datsuns, 240's and Supra's. Either it be Drag, Race, or Drift it was there, and by the closest deadlines some highly anticipated cars barely made it. JSP Fabrications 1200HP Drag AE86 Hatchback was on point with an MCP Built S2000 motor, along side some similar setups. RSpec brought out their Championship winning AE86 Rally Car, through the vendor rows you can see pretty much the best of the best of what So-Cal had to offer. Not to count out any of the contenders that showed up to compete among a fleet of other same or like cars, but hey that is what Car Culture is all about. It doesn't matter if you got a car with wheels and a drop, or you got a fully built Race Car with Slicks and radio delete. Us car guys love, breathe and literally die for what we save every hard earned dollar for.

Now I know some may not feel the same about that, but other than the Gallery before you, understand that the story behind these photos are nothing without the truth that goes with them. Antonio and the 86 FEST did an Excellent job of making ends meet with small or no hiccups at all (From my point of view). The music was on point and the crowds enjoyed themselves with everything they could feast their eyes on. So many gifts, and giveaways thrown and tossed from the lovely Jaro Sisters, and friends. Along with the Raffle making owners smile ear to ear as they receive an exhaust system, wink mirror, or even a huge discount for a Supercharger kit from Jackson Racing.  What started out as a Toyota Corolla thing is, now becoming the premier fest to attend every year, and not because of the car, although as much as we love the 86's it's entirely the Social experience that goes with this Great Event called "86FEST."

After starting my weekend off with a Subaru event and ending it with 86FEST, it wasn't just the numbers that mattered, but the experience and value factor that did it for me. 86FEST did it for me, and kept me alive all day. Absolutely one of the top 5 events of the year for us. We are honored to be on their website banner, after being reached out by Antonio it was clearly nothing that we could not miss. Until next time we totally regret not having a booth, but we surely are planning on making sure we will come back next year with one.

So to answer the question if 86FEST will be here next year? Absolutely, and for a long-ass time! Thank you again for the hundredth time Antonio from Motor Mavens/ 86 FEST, including "Big Mike", and the many others we met that day. Enjoy the photo gallery and share and like as much you wish.